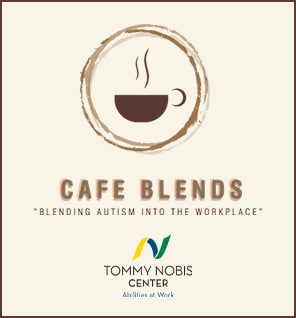 About Café Blends | Blending Autism into the workplace.
Café Blends is a partnership between Nalley Automotive Group and Tommy Nobis Center, a local non-profit that provides job training and employment for people with disabilities. Focusing specifically on hiring individuals on the autism spectrum, Café Blends' purpose is to inspire job creation and create awareness of the prevalence of autism and unique abilities of people with autism. Nalley Automotive Group has been serving the metro-Atlanta area since 1919, and hosts Café Blends in Nalley dealerships throughout the area.
Tommy Nobis Center develops and provides job training, employment and vocational support for youth and adults with disabilities and other barriers to employment. Since opening its doors in 1977, Tommy Nobis Center has helped more than 25,000 individuals with disabilities and other barriers to find confidence, independence and workplace success. Based in Marietta, Georgia, this nonprofit community rehabilitation program provides "real work" programs throughout Metro Atlanta and 18 U.S. states to help individuals develop the physical, social and job skills needed to find and keep a job. Program managers and supervisors provide ongoing support and training on the job site to ensure the participant's success. This service may be provided at Tommy Nobis Center or at community­ based companies such as Nalley Automotive Group.